Super Skills!  Attend a Seminar/Workshop
Training Courses selected by Terri Kerr that share the philosophies about training your dog. Up Front Dog Center provides continuing education and learning resources from the highest caliber of trainers and speakers.
Come train for 2 days with Victory Hulett
The TOP OBEDIENCE DOG AND HANDLER IN THE NATION in both 2013 & 2014! Limited Working Slots available. Victory Hulett is an AKC top dog trainer. She is one of the countries best trainers with the credentials, awards and accolades to prove it. Her philosophy is based on creating focus and motivational play. She believes that gentle guidance and proper leadership achieves excellent results, as it is based on the psychology of how dogs learn. In addition, her varied background allows her to bring a fresh perspective to many areas of training. She takes a complicated technique and breaks it down so any pet lover can apply the technique to their pet. Areas of Experience: Competitive Obedience, Schutzhund, Drug Detection, Aggressive Dog Rehabilitation, Service Dog, Therapy Dog, Behavior Modification.
Victory has had practical hands on experience with training dogs for over 30 years. She started showing her Border Collie, Reign, at 15 months old, receiving an OTCH at 22 months. To date, Reign has earned a total of 71 High in Trials, 70 High Combined, and 22 perfect 200 scores. A total of 160 Highest Scoring dog in regional trials and Highest combined score of open and utility.
2013 Front & Finish Delaney Award 2013 National Obedience Championship – Second Runner Up. 2013 National Obedience Classic – Top Scoring Dog in 5 of 6 rings. 2013 Purina and Westminster – Top Dog of the Year with 1003 OTCH points. 2014 National Obedience Champions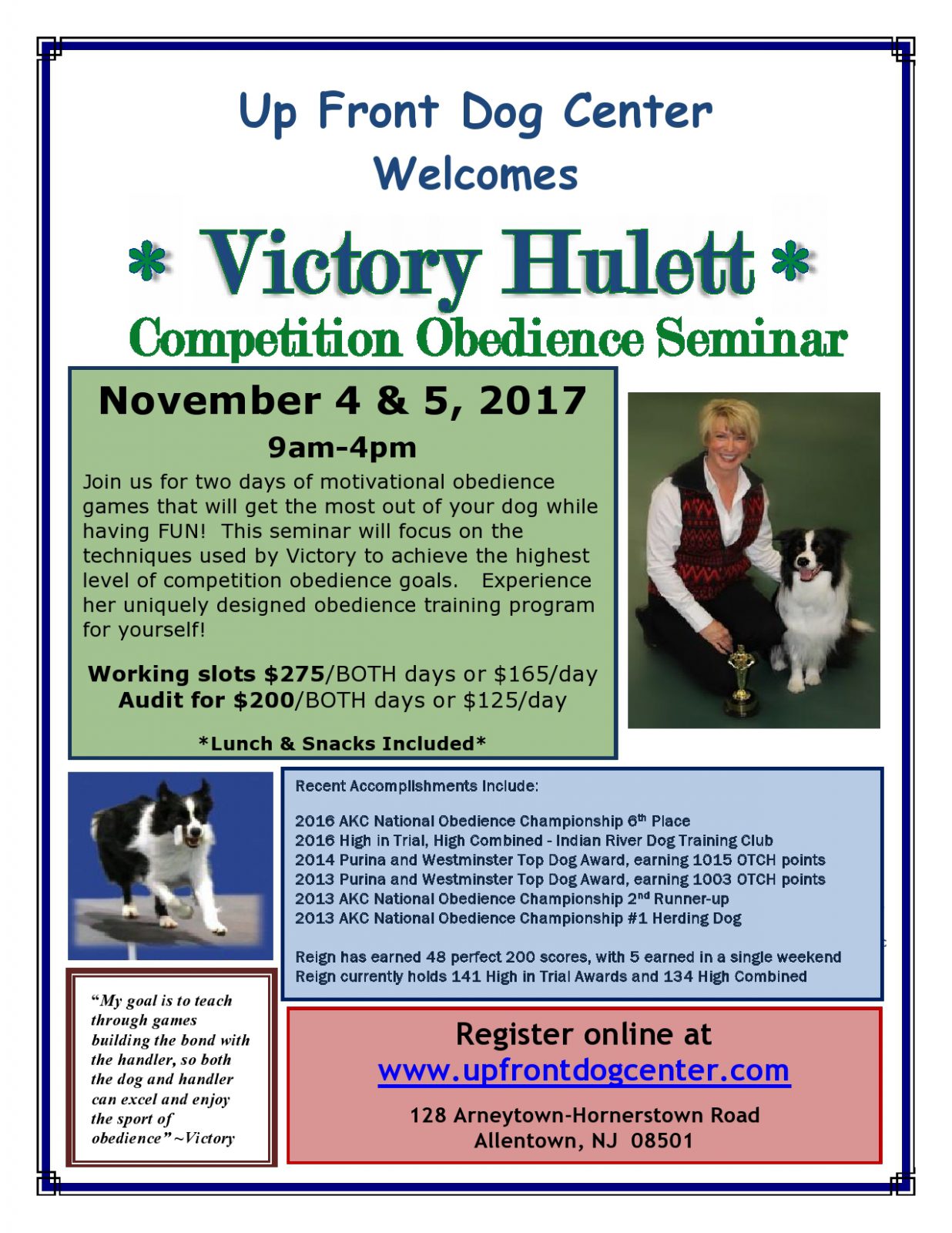 REGISTRATION FORM:
Seminar Location:
Up Front Dog Center
128 Arneytown-Hornerstown Rd
Allentown, NJ 08501
Hotels & Lodging:
Hampton Inn & Suites Robbinsvile
153 West Manor Way
Robbinsville, NJ 08691
Hilton Garden Inn Hamilton
800 Route 130
Hamilton, NJ 08690
855-277-5057
Homewood Suites By Hilton Hamilton
960 US Highway 130
Hamilton, NJ 08691
(855) 277-4942
Comfort Inn
1009 US 206
Bordentown, NJ 08505
(855) 849-1513
Bordentown Days Inn
1073 Rte 206 North
Bordentown, NJ 08505
(800) 329-1992
Best Western Bordentown Inn
1068 Route 206 and Dunnsmill
Bordentown, NJ 08505
(800) 568-8520
Veterinarians Nearby:
NorthStar Vet Vetinary Emergency
Trauma & Specialty Center
35 Robbinsville-Allentown Rd.
Robbinsville, NJ 08691
(609) 259-8300
---
Previous Seminars and Workshops
"What Every Dog Obedience Competitor
Should Know First
about the Mental Game"
Thank you Terri for a wonderful seminar. The seminar was not only interesting you added your Southern hospitality and we all felt you that put in a classy seminar and the food you provided was top notch. Thank you
eve