Gold Standard of Dog Behavior
The AKC's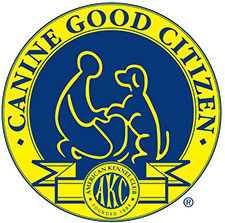 Canine Good Citizen® (CGC) Program is rapidly becoming recognized as the standard of behavior for dogs in our communities. Canine Good Citizen® resolutions have been passed by 42 state legislatures and the United States Senate including New Jersey and Pennsylvania , insurance companies are starting to use CGC® to insure breeds they would not otherwise insure, and some condominium associations around the country now require that all dogs in the complex have earned the Canine Good Citizen® award. In CGC, dogs who pass the 10 step CGC test can earn a certificate and/or the official AKC CGC title. Dogs with the CGC title have the suffix, "CGC" after their names.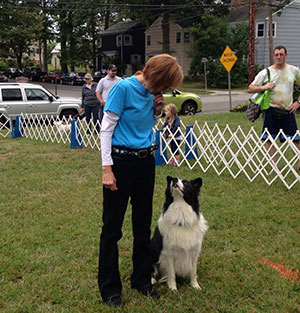 Up Front offers the 10 step program. The focus of this class which is taught by Diane Stout who is a CGC evaluator, is strengthening the between  the owner and their dog by teaching commination skills. The goals of Canine Good Citizen is taught with positive reinforcement.
CGC Prep is a proofing and practice class for the AKC's Canine Good Citizen® (CGC) 10-step test. The AKC CGC Test Program is designed to recognize any full or mixed-breed dogs who demonstrate good manners in the community.  All dogs who pass the 10-step CGC test may receive a certificate or title from the American Kennel Club.
CGC preparation training provides you with six sessions to practice and proof the 10-steps for passing the CGC Test.  Emphasis is placed on the steps that are difficult to practice in a solo or home environment.
10-step Canine Good Citizen test is a non-competitive test for all dogs
Accepting a friendly stranger:  Evaluator approaches, shakes hands with handler, does not touch dog.
Sitting politely for petting:  Evaluator pets dog, dog mush show no shyness or resentment.
Appearance and grooming:  Evaluator inspects dog, combs or brushes lightly, examines ears and each front foot.
Out for a walk:  Handler takes dog for a short walk, including right turn, left turn, about turn and stop. Dog must not pull on lead.
Walking through a crowd:  Dog and handler walk closely by several people; dog may show casual interest but may not jump up.
Sit and down command/staying in place:  Handler demonstrates dog can do a sit and down, then chooses a position, leaves dog and goes the end of a 20 ft. line and returns immediately. Dog must stay in place.
Coming when called: With dog still on 20 ft. line from Test #6, handler walks out 10 ft. and calls dog. Dog must recall.
Reaction to another dog:  Two handlers and dogs approach, shake hands, exchange pleasantries, and move on. Dogs can show casual interest only.
Reaction to distractions:  Distractions (one moving, one audible) are presented; dog may not panic or show aggression.
Supervised separation: Handler goes out of sight for 3 minutes. Dog is held on 6 ft. lead by an evaluator. Dog should not show signs of extreme separation anxiety.
After the six week program Diane Stout a CGC® Evaluator will test your dog.
The CGC Program teaches good manners to dogs and responsible dog ownership to their owners. The 10-step Canine Good Citizen test is a non-competitive test for all dogs, including purebreds and mixed breeds. The CGC award is a prerequisite for many therapy dog groups. Some homeowner's insurance companies are encouraging CGC testing, and an increasing number of apartments and condos require that resident dogs pass the CGC test.
As a result of frequent, ongoing requests from dog owners and instructors for AKC to recognize CGC as a title, dog owners will have the option of having CGC added to their dog's title record and appear as a part of the dog's titled name.
All dogs must have Rabies and DHPP vaccinations or titers.   Proof of vaccinations or titers must be brought to first class.  Dogs without proof of vaccinations or titers will not be able to participate.  Pre-registration and pre-payment required.  
REGISTER NOW!