Client Testimonals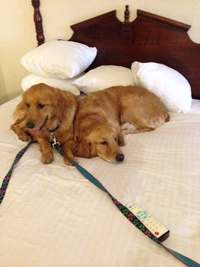 "Champagne spent the first 2 years of her life in a Missouri puppy mill.  The owners retired and auctioned off over 300 dogs. Shore Hearts Golden Retriever Rescue was lucky to be able to purchase 3- Champagne, her littermate Sandy and an older labradoodle. The world was a terrifying place to Champagne.  She was afraid of loud noises, sudden changes in volume, any fast movement, couldn't eat in front of people, and couldn't stand upright for any length of time until she built up her muscles. Her foster Mom, Lois DiMarzio, brought her to Terri for behavioral counseling. Champagne started to make slow progress when a family came forward, willing to adopt both Champagne and her sister.  They moved to Florida and the goldens are making friends at the dog park near their home. Thank you Terri and everyone at UFF who took a moment to give a pat and a kind word to a terrified  little golden. Life if looking up for Champagne!" -Lois
---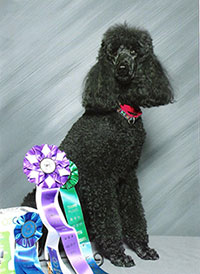 "I have been training with Terri for five years. She has been so helpful with my Standard Poodles. Peggy Sue has earned her UOCH and AKC UDX all with Terri's expertise. Karli is my new project with whom we are working. She is showing great promise. Terri is very knowledgeable with dogs of different breeds and sizes. I have recommended her to many of my friends and everyone is doing very well. Up Front Dog Center is a great place to train. " -Diane
---
"I have attended many agility seminars (Susan Garrett/Greg Derrett; Julie Daniels; Jen Pindar, etc.) and worked with a number of good trainers.  Without disparaging any of them, no one has helped me succeed in agility more than Sassie Joiris.  She has helped me with my high drive standard poodle and with my slow and steady Norwich terrier.  She does not base her advice on what Border Collies can do.  (She could train a duck to do agility).  If you are older she does not tell you to run faster, she figures out how you can compensate. Sassie takes time to prepare to work with YOU and YOUR DOG to get the best out of your team.  And unlike some trainers who shall not be mentioned, she has great people skills; it is fun as well as instructive to work with her.  I always leave a lesson or class with her more confident with the tools my dog and I have learned." – Esther
---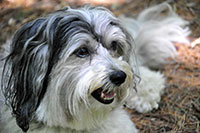 "I came to Terri as a senior citizen with a small dog recused from a puppy mill and absolutely no experience in AKC obedience. Terri was incredibly patient and very encouraging as she taught me to be a team with my dog. I will always remember her saying, "Never train with anger" I was amazed how Terri would analyze any of our training problems or concerns that I had with my Gingersanp and then come with a solution. And it always seemed to work! I wholeheartedly recommend training with Terri Kerr at UpFront Farm and Dog Training Center. -Kay
---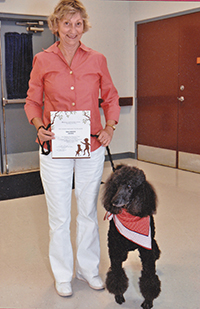 "Raven was 2 years old when we began training with Terri Kerr at Upfront Farm. I wanted her and I to do therapy together and she needed to pass the therapy dog test. Raven had some basic training but not the Correct Training. Raven passed the test with straight A's . She gave 10 years of service and went on to receive her AKC Therapy Title, AKC Obedience titles and AKC Agility Titles." -Gail
---
"One of my favorite places to have FUN with Suri. Suri and I owe EVERYTHING to Terri Kerr at Up Front ! WE love training here too. Terri Kerr the owner/trainer knows how to read each dog no matter what breed. I would recommend Up Front Farm to anyone that wants a well rounded pet or a performance dog!" -Andie
---
"Wonderful place to show your dog. We had a great trial there Saturday." -Diane S.
---
"Wonderful place to train. Teri is very knowledgeable, lots of tricks up her sleeve to help you with your pup. I have learned so much. Another productive night of training & fun. Thank You Terri" -Maureen
---
"Terri has the best training ideas. She can watch an owner and dog and know what methods of training will work. She is always ready with a new training idea or trick that works for your dog. I put my first akc title on a dog in 1980. Terri's experience with horse training and dog training and love of animals can be seen in her training ways. She really keeps her students on their toes. Thanks Terri for all of your help." -Betty
---
"I never had the opportunity to train with Terri and her crew, but I have attended events at her facility. First class act. Very nice facility." -Leigh
---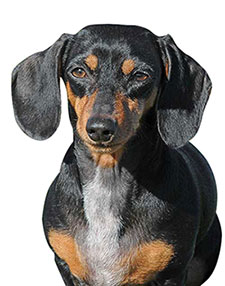 Terri gave my little dachshund confidence. I learned not to be influenced by others and to stay focused on my dog. One of the most important decisions I made for my dog, is using obedience training method that I get from Terri only. Terri has helped me become a more effective trainer and has pointed out mistakes that I don't even know that I am making. I had heard obedience is like watching paint dry. Terri mixes it up so you and your dog are never bored. She believes in the reward base positive training system. She understands my dog's motivation, frustration prey drive, defensive, temperament etc. Obedience is more than just commands, it is understanding what my dog's capabilities are and use Terri's tools in her training program, I highly recommend Terri Kerr
-Arleen
---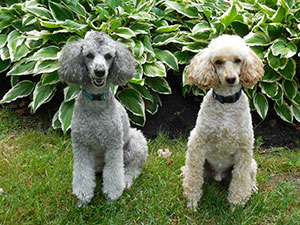 I have been training at Up Front for over 5 years. My first obedience dog, Buddy, a miniature poodle, came to us at 2 ½ years old. Recently with invaluable instruction and support from Terri he earned his UD title. Last year our newest rescue, miniature poodle, Mica, started training with Terri. With her guidance and suggestions he earned his Beginner Novice and Novice titles. More importantly he has developed a level of confidence he did not have when he started training.
Terri Kerr is a very knowledgeable instructor who always has one more suggestion on how to teach a new exercise so that the dog will understand what you want him to do. Equally important to me is that Terri truly enjoys working with her students both canine and human. She frequently reminds her human students to play with their canine partners and make the training activities fun for them. She then demonstrates various fun activities that reinforce the training. She also encourages camaraderie among her students with special parties and activities. Whether you are a serious competitor or just someone who wants their dog to be a good canine citizen, Terri Kerr can provide the instruction you will need to reach your goal. Thank you Terri .
-Pat
---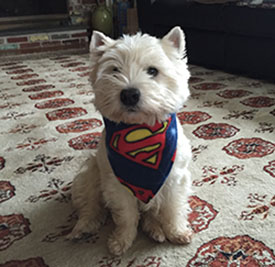 I, too, would highly recommend training with Terri Kerr at Up Front Farm. My little Westie came to Terri at 7 months old, and with her help he blossomed into a wonderful, friendly, obedient, socialized, and well rounded pup. Our training sessions have always been fun and rewarding. I was told by many that terriers do not do well in Obedience and are an ongoing challenge, but thanks to Terri's positive guidance and direction, we have shown the crowd that we can do it! Luke at 4 just earned his CDX title. Terri built up our confidence, gave us the courage to continue, and convinced us both that we can work together as a winning team. We've never had a problem that Terri couldn't creatively fix. The tricks she uses to correct training "issues" are endless, and instruction with Terri has always been geared to our individual needs. Monthly Matches at the training site gave us many opportunities for practice, and enlightening seminars and workshops, offered periodically, have helped me grow and become a better handler. Training at Up Front Farm is a win-win experience. Thank you, Terri,
-Roz
---