What Sets Us Apart???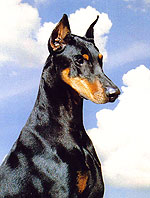 TERRI KERR: (Owner/Operator) Terri Kerr's training career began at age eleven with horses. Her early success competing in the Hunter/Jumper divisions enabled her to further a career training young horses for other competitors. Her skills grew working with these spirited animals, and they taught her that communication and motivation where key to obtaining the highest level of performance from animals. Terri's first job was working in a kennel at 16, then at 18 became a groomer. By 1984 Terri began focusing her skills on a slightly smaller but no less spirited animal; she began her career training dogs. Her first few dogs were rescued poodles, which she competed in obedience obtaining AKC-CD titles. After she was bit with the dog competition bug, Terri turned to a Doberman Pincher named Trueman who together they earned the coveted OTCH. Terri has been awarded High in Trial at numerous shows. Terri has been teaching and training dogs for 25 years.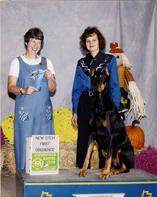 Trueman's Story: Terri had seen a Doberman Pincher working in the obedience ring and was so taken with it's beauty and work ethic she decided that was the breed she had to have. She started her search. She searched and searched. After contacting all the Doberman breeders in her area with the same result, none would sell her a puppy. Not one to be deterred form her goal and desire for a Doberman she turned to newspaper ads. Responding to an ad she drove very late with her husband to a local city to find her Doberman and realize her dreams. There in a bathtub were three puppies. There was only one male and she scooped him up, he clung to her neck, and she told her husband, "give her the money" and away they went. She had her Doberman! The "bathtub" puppy became OTCH Trueman UDX 56. Trueman with multiple wins, HIT's, blue ribbons, therapy dog, CGC, and Temp Tested fulfilled the dream and goal of being a Top 20 contender.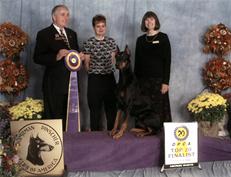 Terri Kerr & Trueman DPCA Top 20 Finalist: As time went on other Dobermans joined the Kerr household and since 2001 to 2006 Terri and one or more of her Dobermans ranked in the top 20 in obedience. These rankings offered Terri the opportunity to compete in three AKC/Eukanuba National Obedience Invitationals. In 2006 Terri and Gema ranked third in the working group at the Invitational. In 2007 Terri got her second OTCH with Gemma. . Terri currently has two border collies competing in AKC obedience and herding, a malinois competing in AKC obedience and sport dog. Terri has based her training style on life experiences and her close working with top trainers . Terri's firm but positive approach is key to her success. She knows what she wants and works in a step by step way to get the most out of her dogs while still having fun. " The relationships that are built with our dogs are built with communication. Communication is the key whether your goal with your dog is High in Trial or just hanging out at home with a well mannered companion."
The gratification Terri gets from having dogs is that "when you're happy, they're happy and running around, and when you are sad, they are there with you." If you share with others your experiences, both as a student and a teacher you could help one more behaved dog have a wonderful life. Happy training!
Read more about Terri Kerr in the Examiner Local Doberman has a shot at being nation's top dog.
PICTURES OF OUR FACILITY!
Pictures are thumbnails – click on one to see a larger image.